One of the things I hear from many new clients during consultations is 'I hate running, don't make my run'. For someone who loves running and finds it a bit of an escape, I wonder why do so many people hate it?
For some its a fear of being seen by others in what they feel would be a sweaty mess, for others it's a fear of losing muscle, which can happen, but only happen if you're running significant distances, not doing any strength training and not eating enough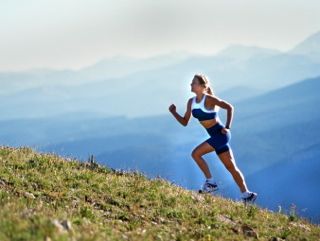 calories and protein. The biggest complaint I hear is that it's 'boring'. This is something I personally disagree with as I love to get lost in my music and enjoy the fresh air and scenery we're blessed with here in the north east, but if you are bored of running try mixing it up a little. Here's are three simple runs to vary your training, get the best out of your training and hopefully keep it interesting!!!
Goal
Best Runs
How?
Strength & Speed

Cardiovascular

Fat Loss

Intervals

Including sprints at 85-100% of your maximum heart rate is one of the best ways to improve your overall running performance by building strength and increasing speed. If your main goal is weight loss, then intervals are great for burning fat. In-between sprints allow yourself recovery time which involves walking or jogging at a gentle pace. This type of run is best done on a flat surface and if you don't have access to a track or prefer to be out and about there are timer apps you can set to prompt you during your run…..I like to set a timer of 20 second sprint – 45 second gentle jog, but find a starting point with longer recovery time and work on decreasing this as you increase the sprint time.
Strength & Speed

Cardiovascular

Fat Loss

Hill Repeats
Similar to intervals, hill repeats will improve strength and speed by engaging more fast-twitch muscle fibres (the fibres in our muscles used to generate short bursts of speed or strength).Find a hill with a gradient of at least 5% and distance of at least 50metres. Sprint up the hill at maximum effort and then walk or gently jog back down. Start with 3-4 hill sprints and work on increasing this up to 10 repeats. You should be working at 80-95% of your maximum heart rate during these training sessions.
Distance

Cardiovascular

Fat Loss

Long Run
Long runs are best for increasing your distance. If you've booked yourself in for an event or organised run, you will need to include long runs in your training. During a long run, you will be working at 70-85% of your maximum heart rate. Every other week increase your distance by ½-1 mile and try to include one long run per week. If you're training for a long distance race such as a half marathon or marathon run at your longest distance every other week and begin to taper in the two weeks prior to the race.